Alma TED Hair Regrowth NYC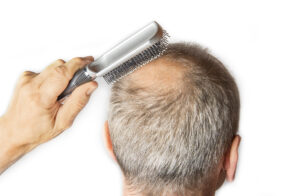 Dr. Robin Unger provides NYC Alma TED hair regrowth. This innovative treatment can combat hair loss in men and women, whether you're dealing with shedding or thinning. Hair loss can be a traumatic experience and can often lower someone's confidence and self-esteem. Many hair loss treatments are simply ineffective, cost too much, or are too invasive. Alma TED hair regrowth is a non-invasive procedure. Reach out to Dr. Robin Unger to see if this procedure is right for you or someone you know. 
What Is Alma TED Hair Regrowth and How Does It Work?
Alma TED hair regrowth is a procedure that utilizes air pressure and acoustic sound waves. When combined, these two features deliver hair signal molecules past a patient's protective skin layer and down into their dermis. This process delivers a needle and pain-free process for restoring hair. Unlike other procedures, this innovative method doesn't require any surgery. TED stands for transepidermal drug delivery, and the right formula boasts ingredients that can:
Promote overall better scalp health 

Provide greater follicle strength 

Promote optimal hair growth
The acoustic soundwaves themselves produce gaseous bubbles inside a person's stratum corneum. This process expands your lipid bilayer, paving the way for better medication absorption. Following the acoustic soundwaves, air pressure produces a push-and-pull effect, further driving in the active compounds from the Alma TED solution. 
This method is far more non-invasive and safer than creating channels with lasers or needles. Essentially, the solution targets hair bulbs, stimulating greater growth. 
What Can Patients Expect During the Procedure? 
Since there are no needles, you won't experience any pain during the process. Instead, you can expect a warm and mild buzzing feeling. Additionally, your scalp will probably be slightly damp following the process. The session only takes around half an hour, and you'll be able to resume normal activities following your session. However, you should shower before entering the office as the treatment works better with a clean scalp. 
How Soon Do Patients See Results?
It's possible to see positive results following your first NYC Alma TED hair regrowth. However, most patients generally need three monthly sessions before they start seeing significant improvements. These improvements may include better hair growth, reduced hair shedding, better hair texture and overall quality, and cleaner-looking scalps and hair. 
Who Can Use This Treatment?
Generally speaking, Alma TED hair growth solutions are useful for anyone experiencing hair loss of any kind, including male pattern baldness. Alma TED can be a great solution, whether you're suffering from minor shedding, hair loss due to genetic conditions, or just want your hair to look healthier. While most people use this solution for their scalp, you can even use it for your beard or eyebrows. You can also combine the treatment with solutions like exosome treatments and scalp microneedling. 
Hair loss can be highly emotional and significantly impact a person's confidence. However, help is available through NYC Alma TED hair growth. See if you can benefit from this treatment by reaching out to Dr. Robin Unger.