Scalp Micropigmentation NYC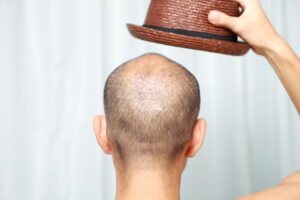 NYC scalp micropigmentation (SMP) can make it look like you have fuller hair, which will likely boost your confidence and feeling better about yourself. The procedure uses an electric tattoo device instead of a manual blade, making SMP different from microblading. This tattoo device is used because it takes more power to penetrate a person's scalp, with your scalp's skin being much thicker than the skin resting under your eyebrows. Although this procedure can sound scary, when done by a professional, you have nothing to fear. Dr. Robin Unger is an expert when it comes to hair restoration services. She's a well-respected professional in her field, performing treatments on males and females. Reach out to Dr. Robin Unger today to see if SMP suits you. 
What Does the SMP Process Look Like, and Who Can Benefit?
The main goal of NYC scalp micropigmentation isn't to produce hairlike lines similar to microblading eyebrows. Instead, this procedure utilizes small, layered dots resembling different black hues. These hues essentially replicate your scalp's shadow—a style referred to as pointillism. This pointillism style's main objective is to create a more realistic and natural look. The right hair restoration practitioner will ensure these dots blend seamlessly with your scalp's complexion and hair follicles. 
People who have experienced hair loss of any kind can benefit the most from SMP. Some examples of hair loss that can be treated with this procedure are: 
Pattern baldness in males and females 

Thinning hair

People with alopecia 

Hair loss due to cancer
If you have scalp acne or skin conditions like psoriasis, you should avoid SMP during a flare-up. 
Does the Treatment Hurt?
Of course, pain should always be a factor when receiving any treatment. For NYC scalp micropigmentation procedures, patients can experience varying degrees of pain. For example, some patients don't experience any pain whatsoever, while others experience some degree of pain. Regardless, you can expect some discomfort, but your practitioner will try to limit this discomfort and pain as much as possible. They will start by applying a numbing topical agent to your scalp. 
What Can You Expect Following Your Treatment?
Dr. Robin Unger will advise you on what you'll need to do following treatment. Some important guidelines to follow are: 
Shower before receiving treatment, as you won't be able to wash your scalp for at least four days afterward.

You also can't get your scalp wet so avoid activities that'll make you sweat profusely. 

You should expect a typical treatment session to last between four to five hours. 

Generally speaking, most patients will require more than one session. The number of treatment sessions you'll need can vary, but many patients receive three or four sessions. 

Each session will be scheduled a few weeks apart, so plan accordingly. 

Between these sessions, you'll be able to shower after four days or as advised by your practitioner. However, you should avoid hot showers or activities involving a lot of water. Also, avoid exposing your scalp to hot weather. 
NYC scalp micropigmentation can be a great solution following hair loss. Discover if this treatment is proper for you by reaching out to Dr. Robin Unger today!