Unified Tissue Harvest Technique
Schedule a consultation in New York City area with hair transplant specialist Dr. Robin Unger by clicking Schedule An Appointment, calling us at (646) 257-3768, or sending an email to drrobinunger@yahoo.com. In addition to her New York City home office, Dr. Unger maintains an additional Hair Transplant practice in Rockville, MD, where she treats patients from the surrounding areas including Bethesda, Silver Spring, Chevy Chase, Vienna/Fairfax, Richmond, and Reston.
There are two methods of harvesting grafts for hair restoration surgery. Dr. Unger utilizes both methods and discusses with each patient the benefits and disadvantages in the individual's specific scenario innovation in hair transplant surgery (following standard punch graft harvesting) which allows doctors to transfer very large numbers of grafts from the densest and most permanent region of the safe donor area. The safe donor region is defined as the area containing hair follicles which will generally remain throughout a patient's lifetime. It was established in 1994 after Walter Unger examined 328 men over the age of 65 and found that 80% of patients under the age of 80 years retained hair within these boundaries (shaded). When transplanted, hair follicles will continue to grow as long as they would have in their original location. In addition, any scars produced during the harvest would remain hidden within a hair-bearing region. Therefore, for a long-lasting correction of hair loss, it is imperative to transplant most of the FU that will remain throughout a patient's lifetime (i.e. from the safe donor zone). In the older methods of punch grafting, the parameters of the safe donor area limited the total amount of hair that could be transplanted, because intervening hair needed to be left to camouflage the scars and prevent excessive thinning of the donor rim. FUE (discussed under another heading) has some similar disadvantages, although the punches utilized are much smaller in diameter.
The strip is usually removed as an ellipse, approximately 8-18mm in width, depending upon scalp laxity and hair density. It is removed in three or four sections, with limited depth of incision and bleeding controlled as the harvest proceeds. After the tissue has been removed the area is stitched or stapled closed – Dr. Unger prefers sutures as this allows for greater precision in approximating the wound edges and is generally much more comfortable for the patients post-operatively. The tissue is then dissected to create slivers and eventually individual follicular units. The small linear scar remaining after surgery using the technique of Dr. Unger and some others in the field is virtually invisible, however this is the main draw-back to strip harvesting. In some cases, a trichophytic closure is utilized; a very thin slice of skin (epidermis) is removed from one side of the wound prior to closure. When the incision heals, the follicles laying under the scar grow through the middle and hide the small linear scar with intervening hairs. This trichophytic closure is particularly important to use in patients who have been "poor healers" in the past, wear their hair very short, and/or have a strong contrast in the color of their hair and skin.
PATIENT #1 WITH LIMITED CONTRAST BETWEEN HAIR AND SCALP
| | |
| --- | --- |
| Non-trichophytic closure | Trichophytic closure |
| | |
| | |
PATIENT #2 WITH SIGNIFICANT CONTRAST IN HAIR AND SCALP COLOR – TRICHOPHYTIC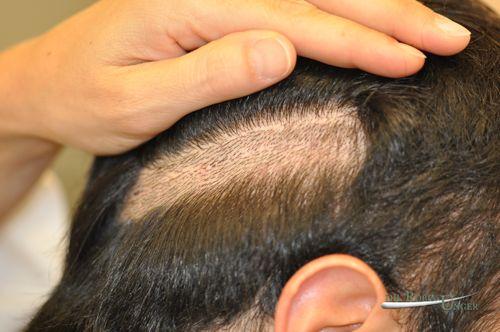 Impact on graft production
When grafts are produced from tissue excised with the strip harvest method, the technicians use microscopes to carefully dissect the tissue to produce follicular units as they naturally occur in the donor area. The finest hairs can be "cherry-picked" for the hairline, and larger FU can be utilized in areas of the recipient behind the hairline zone, which ideally have higher density of hair. The grafts are created in a tear-drop shape, so that there is minimal skin on the surface, but a significant amount of protective tissue surrounding the follicle.
Follicular Unit Extraction (FUE)
Using this technique, each individual follicular unit (FU) is carefully created directly from the scalp, rather than from a strip of donor tissue. The FU are excised from the scalp using a small, sharp cylindrical punch (generally 0.8mm to 1.2mm in diameter) which incises the skin surface around each hair follicle before they are carefully teased out manually with forceps. Dr. Unger does not delegate the FUE extraction, she expertly performs the entire excision technique herself, with a technician "pulling" the grafts as extraction proceeds.
The theoretical advantages and disadvantages of this technique are summarized in the table below. In general, FUE involves no suturing as well as less post-operative discomfort. But it has mostly gained popularity amongst those who often wish to wear their hair less than 2mm in length because – unlike the classical "strip" technique – it does not leave a linear scar in the donor area of a patient's scalp. To accomplish this, FU removal is ideally performed in a random distribution within the safe donor region. After a single session or even multiple sessions of FUE, hair in the donor area appears to be slightly less dense than previously.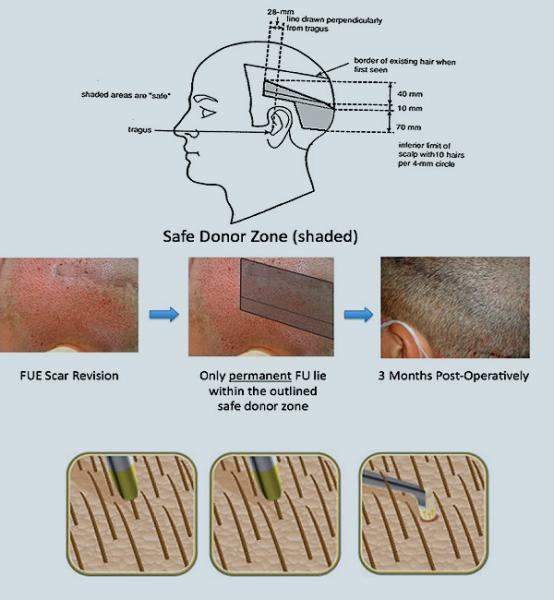 One of the major potential drawbacks of FUE is that some of the transplanted hair is likely to be lost in the future. This potential problem stems from the mutual desire of both the physician and the patient to maximize the yield of transplanted FU. In general, the greater the number of FU transplanted using FUE, the more likely the session may include fewer permanent hairs and more temporary hairs that are destined to thin and ultimately disappear in the future. The required distribution of extracted follicles must remain constant in order to retain a natural appearance of donor "thinning", thus the scalp area from which the FU are harvested must also increase in a linear fashion. A conservative FUE session of 1500 FU spaced every 3rd or 4th hair follicle apart generally can be accomplished within the safe donor zone, a 3000 FU session would require harvesting from twice that scalp area and a 4500 FU session would necessitate FU extraction from over three times that scalp area. The latter two sessions would clearly exceed the established safe boundaries and result in non-permanent FU transplantation and potential small round scars becoming visible as that area loses the original hair.
In general, the donor area is shaved prior to performing the extraction without shaving the recipient area, leaving the patient with a "high and tight" haircut. On occasion, a patient does not wish to shave the donor area for FUE. In these patients Dr. Unger performs a modified long hair excision technique, leaving the hairs not extracted at the normal length. This definitely is advantageous in the immediate post-operative period, however, the main disadvantage is that the harvest is much more time-consuming, and fewer grafts can be harvested in one day.
Despite limitations, there remain specific populations of patients who benefit from FUE. For example, patients who – as mentioned above – want to have no linear scars at any time. Patients with poor scalp laxity and who may have excess tension upon closure after a strip harvest (this problem is usually more pronounced after multiple strip harvest excisions). Fortunately, scalp laxity does not significantly impact the cosmetic recovery of the scalp after an FUE harvest.
Another group benefiting from FUE is the population of patients who have pre-existing scarring. Using this technique to obtain FU for transplantation directly into a scar, it is possible to camouflage or eliminate even a fine linear scar resulting from a prior surgery. For this reason as well as the aforementioned advantage of transplanting the largest percentage of permanent hairs via strip harvest, many surgeons believe that a combination of single donor strip harvesting, followed by an FUE session is optimal to achieve the largest number of safe, long-term FU from the donor area while minimizing or eliminating any resultant scarring (i.e. the best of both worlds).
Body-to-scalp FUE has been utilized when the patient has insufficient donor hair density in the scalp. The density of results utilizing body hair suggest that the survival is significantly less than scalp hair, however no meaningful set of results have been published and the difference in density may also be related to hair cycles. Anecdotal reports indicate that beard hair has particularly good survival, and may be a good solution for camouflaging donor scars or adding density behind hairlines that are created with finer hairs.
Advantages and Disadvantages of the Current Practice of FUE
| Advantages | Disadvantages |
| --- | --- |
| No permanent linear scar | Fewer permanent hairs transplanted for equal number of hairs in larger (2000+ FU) sessions due to harvesting outside of the safe donor region |
| Comfortable healing process | Lower yield due to more follicle transection (10%) AND skeletonized vulnerable grafts |
| Decreased healing time | Small punctate scars throughout the entire donor area |
| Fewer limits on post-op activity | Time consuming |
| Viable alternative if decreased scalp laxity | Costs more, labor, etc |
| Useful if limited number of grafts are needed (e.g. eyebrows) | Patient has to cut hair very short or shave |
| Good for patients who are "poor healers" | Likely to bury grafts (folliculitis or cysts) |
| Ideal to repair donor scar that cannot be effectively excised | Scarring and distortion of donor area makes subsequent FUE sessions more difficult |
| Able to "cherry pick" most desirable size and caliber FU. | More difficult to capture the entire FU while minimizing scarring |
| Good if patient prefers to wear their hair <2 mm. | Grafts are more fragile and subject to trauma during placing since they often lack the protective dermis and fat of miscroscopically-dissected FUs |
| Ability to utilize body hair in patients with insufficient scalp donor hair | Limited candidates (not ideal for white or curly hair) |
Donor Removal