Before & After Photos
A 23 year old male (Norwood IV) who underwent hair transplant procedure to the frontal area. The procedure covered the frontal 2/3 of the scalp including the deep ledges. A total of 2421 grafts were...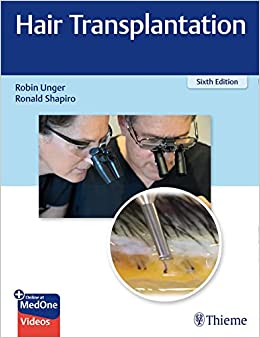 The Definitive Resource On Leading-Edge Hair Transplantation Techniques From Global Experts!
This sixth edition of Hair Transplantation, edited by renowned surgeons Robin Unger and Ronald Shapiro and with contributions from innovators worldwide, builds on its longstanding reputation as the one trusted, unbiased, and acclaimed educational resource for state-of-the-art hair restoration techniques.
Testimonials
Great experience and results! Dr. Robin unger is highly skilled and knowledgeable and patiently answered all my questions. The nurses and technicians—cheryl, crosby, john and paule—are terrific and very friendly and positive. Joy is warm and helpful.

Words alone will never capture our sincerest gratitude to dr. Unger. Not only is she sooooooooo professional in her expertise, but went way beyond the call of duty by showing us so much support, warmth, patience, love and kindness. Her words of honesty truly touched our hearts. When all the other doctors lost hope, she was there to lift us...

The hair transplant I received was absolutely transformative. I had become so self conscious and I could no longer enjoy special occasions and was thinking of retiring early. Dr. Robin Unger did a phenomenal job, and I am back to feeling great again. The results speak for themselves.

Dr. Robin Unger and Dr. Walter Unger are without question the kindest, most well respected, most talented, most professional and truly groundbreaking Doctors in this field. Period….I have spoken with the most respected surgeons in Los Angeles, Europe and NYC and ALL of them do not hesitate when stating who is truly and without question the absolute best in the field. Dr Robin Unger.

45 years

In my first very visit I was highly impressed with Dr. Robin Unger's knowledge. She provides very detailed information about the situation, what the problem is, the cause and solution. Never have I felt that any doctor gave such personal attention, time to hear all your problems, and answer all of them patiently. I would highly recommend to everyone suffering...
Latest News
October 27, 2023
Comments (0)
Surgery Isn't One-Size-Fits-All Every surgical procedure is unique, tailored to individual needs and circumstances. It's essential to consult with a...