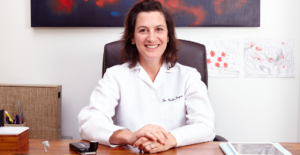 Dr. Robin Unger: NY Hair Loss Doctor
When you're looking for a trusted provider of hair restoration NYC has to offer, Dr. Robin Unger is here to help. She treats both men and women who have experienced hair loss and are looking for affordable and effective treatment options. If you've noticed that your hair is thinning and you want to do something about it, our office may have the hair restoration solution you've been looking for.
What causes hair loss?
There are many reasons why you may be experiencing hair loss. As any experienced provider for hair restoration NYC trusts might explain, hair loss is something that occurs naturally in both men and women as they age. As the body ages, hormones levels typically begin to drop and this can decrease hair production. When hair does grow, it tends to be thinner than before.
Certain environmental or additional health factors may also contribute to a person's hair loss. Poor nutrition can affect a person's hormone levels, and this can end up affecting the person's hair thickness and density. High levels of stress, especially over a prolonged period of time, can also negatively affect hair growth. There are many reasons why individuals seek hair restoration NYC doctors recommend, and it's important to know that each case is unique.
How does hair transplant surgery help?
Hair transplant surgery is one option that may be a good solution for you if you've experienced permanent hair loss. This type of treatment is especially popular for restoring hair on the edge of the hairline and on the top of the head — i.e., the areas of the head that are most visible. Hair transplant procedures allow a skilled surgeon, like Dr. Robin Unger, to move live hair follicles from an area where there is substantial hair growth to the area where hair loss has occurred.
Hair transplant procedures are a popular option for hair restoration in NYC because one single procedure can yield permanent results. Depending on how much hair needs to be transplanted, a patient may wish to schedule multiple appointments so that the skin and hair follicles can heal.
One of the biggest benefits of hair transplanting is that it is real, natural hair that continues to grow back. Once the healing process is complete, the patient can wash, cut, and style the transplanted hair as usual. Because the entire hair follicle is moved — not just a single hair — the body can continue to grow new hair from these follicles in their new positions. Because the patient is essentially his/her own donor, the transplanted hair is natural and blends in flawlessly with existing hair.
Contact a Provider of Hair Restoration NYC Residents Trust
At the office of Dr. Robin Unger, we work closely with patients to discuss different treatment options and to determine which NYC hair restoration procedure is the best option for each individual. We know that it's important for our clients to look and feel their best. Hair loss is a common condition that occurs in both men and women, but it doesn't have to be a permanent condition that you suffer through for your entire life. For more information about options for hair restoration NYC residents trust, content Dr. Robin Unger today.
Client Review

" I'm incredibly pleased with the results of my PRP treatment so far, and am certainly looking forward to seeing what the future holds. For anyone else battling hair loss, I highly recommend that you consult with Dr. Robin Unger – it is well worth the travel to NYC!"
Stephen Ford