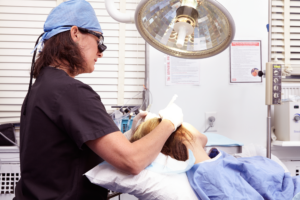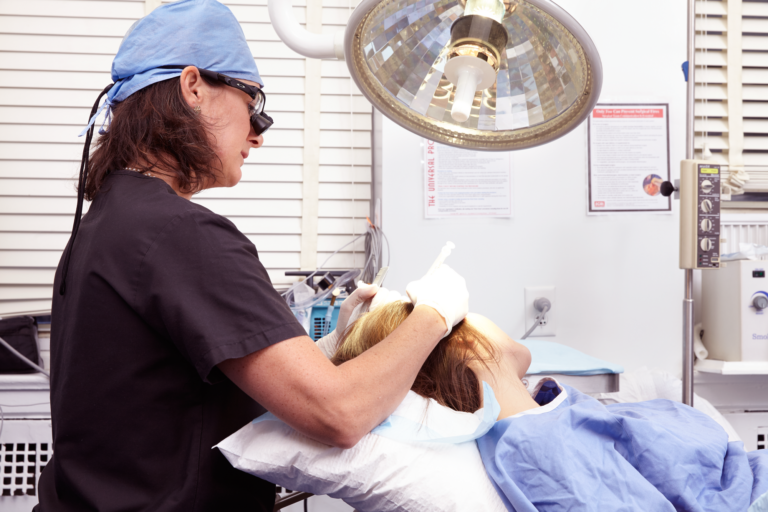 If you are going through "the change" that older women experience, you may find yourself seeking a menopause hair loss Manhattan doctor that can provide effective treatment. Dr. Robin Unger has a practice in New York City that works exclusively on hair restoration. She is well respected in her field and is one of the few specialist surgeons that works on both women and men.
During or after menopause, approximately 40 percent of women experience hair loss or hair thinning. If you are going through those changes, you may want to see seek a Manhattan menopause hair loss restoration doctor you can trust and call Dr. Robin Unger's practice.
The Reasons for Hair Loss
When a woman is going through menopause, there are several hormonal changes that can have unexpected effects on the body, including hair loss. A knowledgeable menopause hair loss Manhattan doctor may explain that the hormones – estrogen and progesterone – have the highest influence on hair growth. These specific hormones help your hair stay strong and on your head for longer duration and grow faster.
During menopause, the levels of these hormones decrease in production, causing hair to become much thinner and grow at a slower rate. However, the hormonal changes aren't the only causes. Other factors may include your diet, if you are experiencing a lot of stress, if you have a certain illness, or you are taking a specific medication. No matter what the cause a doctor that understands menopause hair loss in Manhattan may be able to help provide necessary treatment to restore your hair.
Proactive Steps to Reduce Hair Loss
Even though there are uncontrollable aspects of hair loss, there are a few things you can do to help reduce it. A menopause hair loss Manhattan specialist may advise you that the following methods may help reduce hair loss:
Reduce Stress: Keeping your stress levels under control can help prevent a hormonal imbalance. When you are experiencing stress, estrogen production is reduced, which can lead to mood swings, anxiety, and depression. One of the best ways to reduce stress is through relaxation techniques, such as deep breathing or yoga.
Exercise: A menopause hair loss Manhattan doctor may encourage you to include exercise in your daily routine. Getting out and moving is a key component in creating a healthy lifestyle and incorporating exercise in your daily routine can make you feel happier, stronger, and overall healthier. Going on walks, runs, or to the gym can help maintain a proper hormonal balance, which can promote healthy hair growth.
Diet: The best defense against hair loss is eating a balanced, low-fat diet and including fruits, vegetables, and whole grains into every meal. Another food group to incorporate are monounsaturated oils, such as sesame oil and olive oil. Lastly, fatty acids can help maintain healthy hair, some examples include walnuts, almonds, tuna, and much more.
Getting The Right Help
If you are already experiencing hair loss or hair thinning, it is not too late to get the help you need. Dr. Robin Unger specializes in hair transplant techniques called Follicular Unit Transplantation. This is a reliable procedure that provides a solid solution for women experiencing hair loss due to menopause. If you want to reverse the changes happening, consider contacting a menopause hair loss Manhattan doctor residents can trust by calling (212) 249-4369.
Client Review

" I'm incredibly pleased with the results of my PRP treatment so far, and am certainly looking forward to seeing what the future holds. For anyone else battling hair loss, I highly recommend that you consult with Dr. Robin Unger – it is well worth the travel to NYC!"
Stephen Ford