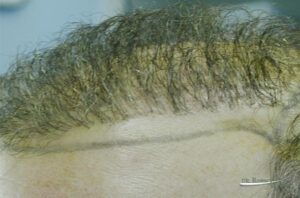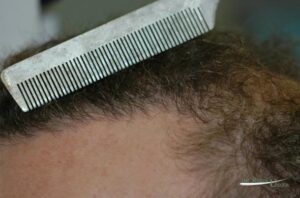 Before surgery to correct poor transplant and after one surgery
This patient was referred by a dermatologist for correction of a very poorly done hair transplant. The patient had actually had six previous procedures done by another surgeon. In consultation, Dr. Unger explained what was needed in order to improve on the cosmetic appearance. At least two surgeries were needed: the first to correct the hairline and frontal region, and the second to further perfect the hairline and make the "plugginess" in the midscalp less evident. Each surgery would involve excising an elliptical harvest containing old punch scars in the donor, as well as the intervening hair, in order to improve on the donor scars while fixing the recipient area. The photo shows the results in the hairline region after one surgery.
Male Pattern Baldness:
Client testimonial:
"I had two hair transplants performed by Dr. Unger and her amazing staff over the last two years. It was a marvelous experience by Dr. Unger and her staff. They always made me feel comfortable during the procedure. You can tell that their concern for their patients is very genuine they really do care about their patients I wouldn't use any other Doctor to perform such a delicate procedure. The gentlemen who cuts my hair was amazed that he couldn't even find the donor area and the results of the transplant were amazing." Joseph C.
Client Testimonial
Reviewer
Review Date
Reviewed Item
Author Rating